Office Mobile apps for Windows 10 and Windows phones would no longer be getting any updates, but this doesn't necessarily mean that Microsoft would give up on the suite entirely.
Instead, the software giant is fully committed to improving Office Mobile on Android and iOS, and in a separate session at the Ignite conference, the company discussed some of the updates that it plans to release in the coming months.
Android and iOS have both become Microsoft's main focus in terms of mobile, especially after the demise of Windows 10 Mobile, and the company says that providing its customers here with all the apps and services is a priority.
Office Mobile makes no exception, and the Redmond-based tech firm explains that the download count of the suite on the two platforms is living proof that further improvements are needed. The apps have been downloaded more than 1.5 billion times on iPhone, and on Android there are 100 million monthly active users.
Same features as desktop sibling
Microsoft wants Office Mobile to be aligned with the desktop siblings and boast features like mentions and improved real-time co-authoring of documents. Furthermore, Microsoft is working on features to allow users to turn their smartphones into laser pointers during presentations and when running apps like PowerPoint.
Furthermore, the collaboration side of Office will be improved with threaded comments, and Microsoft says it's also preparing features that make sense on mobile, like the possibility of taking photos of a table and then convert it to data can be edited in Office apps.
A timeline for these updates hasn't been offered, but given that Microsoft has become more committed to Android and iOS, all the improvements are very likely on their way to users. You can watch the entire Ignite session dedicated to Office Mobile in the video embedded below.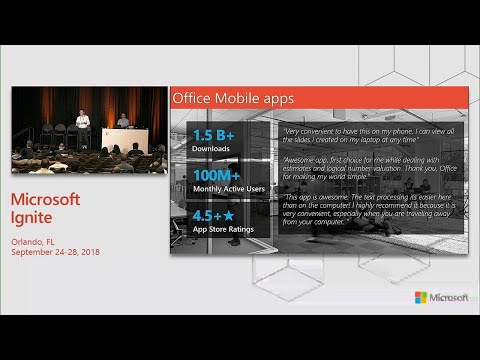 Play Video